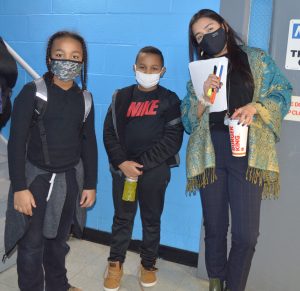 ABOUT CHILDCARE & AFTERCARE
Click below link for our application.
The Boys & Girls Club of Garfield's Fall Program is a full day for members ages 5– 17. All 5 year olds must be entering kindergarten.  At time of registration camper's immunization records and birth certificate must be attached to application if your child does not attend after care.
The hours of operation are Monday – Friday 7:30AM – 6:00PM.
Absolutely No Refunds! $1 a minute late fee past 6:00pm.
Youth are placed into groups with siblings being in the same group due to COVID-19 guidance and will be assigned a designated group leader and aide.  Throughout the day the group leader and aide schedule supervised programs for youth participation.
The Club will be closed the following days in 2021- Friday, April 2nd, Monday, May 31st, Monday, July 5th, Monday, September 6th, Thursday, November 25th, Friday, November 26th, Friday December 23rd – Friday, December 31st.
| | |
| --- | --- |
| 7:30AM – 8:00AM | Arrival Health Checks and Breakfast is distributed. |
| 8:00AM – 12:00PM | Remote Learning per BOE schedule |
| 12:00PM – 6:00 PM | Lunch and scheduled BGC programming |
FEES & PAYMENTS
$40 non-refundable annual membership fee.
Childcare & After-care- Absolutely No Refunds!
Membership and Summer Camp Balances Must be Current
Anyone registering for camp will be able to secure as many weeks needed for their child(ren) with a $50 non-refundable deposit per week at time of registration.
Garfield Public Schools. $165/weekly rate using AUTOMATIC SERVICE/CASH/CHECK/MONEY ORDER for weekly payments
BASC Schools- Transportation is included along with full day coverage on Friday for remote learning. $90/weekly rate using AUTOMATIC SERVICE/CASH/CHECK/MONEY ORDER for weekly payments
Sibling Rate of $10 Discount per week.
Weekly payments are due or will be withdrawn the Thursday prior to the beginning of the upcoming week.
Rates Subject to Change due to enrollment.
OFFICE FOR CHILDREN & 4C'S SUBSIDY PROGRAMS
$146.48 per week if fully covered
If not fully covered, you will be responsible for your co-pay amount weekly through AUTOMATIC SERVICE. Co-pay amount will be due 1 week in advance on Thursday.
$20.00 non-refundable deposit per week needed will be required for all Subsidy cases whether approved or pending approval
      No post-dated checks, secondary checks or phone payments will be accepted
Returned checks are subject to $35 returned check fee and future payments must be cash or money order.